This week of OmniTalkFI is all about NXTsoft's cloud technology! Walter Hoffmann, Senior Vice President of Product for NXTsoft, will be discussing NXTsoft's cloud integration solutions and why your financial institution should be taking a closer look!
The OmniConnect Platform is the premier open banking marketplace for all your diverse connector and integration needs. OmniConnect takes on your challenge of automating the continual data transfer from many disparate systems, relieving the burden of rekeying information and streamlining your workflow. We connect everything from digital banking, to item processing, payments, and financial systems. OmniConnect is your integration partner for life; even if you change vendors we'll always connect your data. NXTsoft is a provider of Cybersecurity, Data, and API software solutions.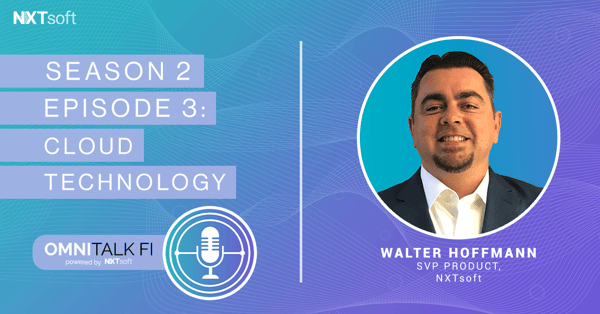 Walter Hoffmann, Senior Vice President of Product - Walter Hoffmann is NXTsoft's Senior Vice President of Product for NXTsoft 0Walter is a veteran in the Fintech industry, with experience managing all aspects of cross-platform integration and partner relationships. He has held senior management positions at CRIF Lending Solutions and Jack Henry & Associates' Symitar division. Walter uses his extensive knowledge of the industry paired with his expertise in Fintech platforms to assist in the development and future growth of Omni solutions. Walter attended Mesa College, International Business. He grew up in sunny San Diego, CA, and currently lives in Atlanta, GA.
Be on the lookout for a new episode of OmniTalk on the 1st and 3rd Monday of each month! On the next episode, members of the NXTsoft Partner Relationship team, Shelba Murphy, Kerry Phillips and Rachel Bittner, will be talking about why NXTsoft is an amazing partner to have in your corner!
For information about how you can get a complete integration solution for your institution or for more information about how you can become a NXTsoft strategic partner, visit https://www.nxtsoft.com/contact or call 1-800-915-3381