Today's episode of OmniTalkFI we have a very special guest, Paula Tompkins, she is the CEO and Founder at ChannelNet. Paula tells us the story of how her company was founded and also shares why personalization is key to the success of any financial institution.
About ChannelNet -ChannelNet is a leader and pioneer in delivering customer engagement and retention via web-based and mobile solutions that work across sales and service channels. Using software-as-a-service (SaaS), its patented member engagement platform connects banks and credit unions with their customers and members to engage, inform and learn about financial products and services. The privately held company, founded more than 35 years ago, is based in Dearborn, Michigan.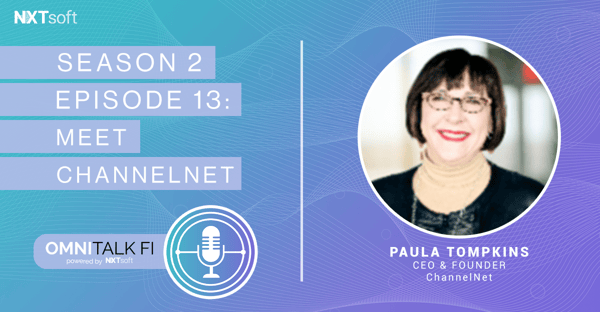 Paula Tompkins, CEO & Founder, ChannelNet - Paula Tompkins is a strategic visionary with a deep understanding of marketing and technology. Her 30-plus-year career encompasses the full spectrum of marketing, from direct mail and call centers to multi-channel and omnichannel experiences. She is an authority on leveraging digital touch points to drive store traffic. An inventor, Tompkins holds two U.S. patents for ChannelNet's SiteBuilder™ software technology.
She started her career as a commercial banker in 1974 with a stint on Wall Street at the Bank of New York. Abandoning Wall Street in 1975, she went on to break gender barriers at both 3M and General Electric (GE) industrial sales divisions as a sales engineer. At GE, she sold computer components to Silicon Valley companies.
One of her customers, a start-up, recruited her to assist with developing a personal computer, an early "luggable." She then moved on to another start-up, Altus Corporation, where she was responsible for creating an interactive electronic advertising medium for airline passengers.
In 1985, she founded The SoftAd Group, which was renamed ChannelNet in 2004. She has led the company's creation of thousands of multichannel marketing and sales solutions for Corporate America. Over time, the solutions have evolved from 5 ¼" and 3 ½" diskettes and early iterations of multimedia to CD-ROM and client/server technology, the Internet, and tablets and other mobile devices.
Her technology-based sales, marketing and service company works in the finance, automotive and home improvement industries. Some of her customers are Fiserv, BMW Financial Services, Hyundai Motor Finance, Ally Financial, Inc., RouteOne, Toyota Financial Services Corporation, Harley Davidson, Ford Motor Company, JM Family Enterprises, Porsche Financial Services, Subaru, Jaguar, Land Rover, Volkswagen Credit, Lexus, Audi Financial Services, Kia Motor Finance, General Motors, Hunter Douglas and Benjamin Moore & Co.
The Marshall University alumnus is a member of the Class of 2015 of the University's College of Business Hall of Fame. In 2014, Marshall University's Yeager Leadership Institute presented Paula with the second annual William E. Willis Leadership Award for her exemplary leadership in three areas – learning, guidance and honor. She actively works to promote the Marshall University's programs and served on its foundation board of directors for twelve years.
She has appeared on television on Tom Peters' "Thriving on Chaos" and PBS' "The Nightly Business Report," and she has been on National Public Radio's "Money Talks." Tompkins also has been featured in numerous online and print publications, including American Banker, Automotive News, Auto Finance News, F&I Showroom, The Wall Street Journal, Fortune, Time, The Washington Post, Business Week, the New York Post, CIO, Advertising Age, Detroit News, Detroit Free Press, Crain's Business Detroit, J.D. Power and Associates publications and Esquire.
Also renowned in the international business arena, Tompkins has been the focus of articles in a number of periodicals around the world, including La Tribune, Australian Ad News, Computer Sweden, Markedsføring and Japanese Newsweek.
Tompkins has lectured at Columbia University's School of Business, the University of California Berkeley's Haas School of Business, Stanford University and Marshall University.
Born and raised in Huntington, West Virginia, Tompkins holds a bachelor's in Business Administration from Marshall University. Her main residence is in the Silicon Valley area.
For more information about how to become a NXTsoft strategic partner, visit https://www.nxtsoft.com/contact or call 1-800-915-3381
---