Lindsay Green, President at Extraco Consulting is our guest for this episode of OmniTalk FI! Join me as we learn more about what Extraco Consulting does and how their CIFocus solution is helping community banks and credit unions improve their data quality.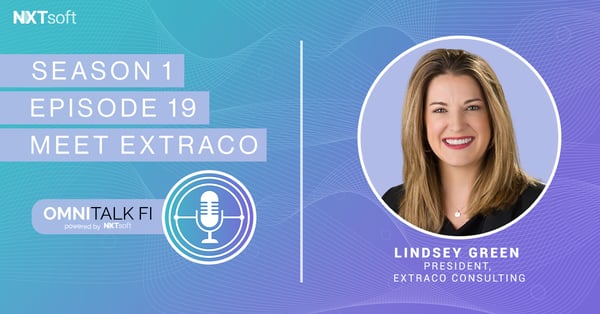 Lindsey Green, President, Extraco Consulting - Lindsay has more than sixteen years of experience in the financial services industry, with a background in innovation, project management, marketing, information technology and information systems management, retail banking, alternative delivery channels, operations and public relations. Prior to her career at Extraco, Lindsay was part of a leadership team that initiated a de novo bank and grew the bank from de novo status to a mature community bank. At Extraco Banks, Lindsay was responsible for retail innovation, project management, social media, retail hiring, retail training and alternative delivery channel development and management. Lindsay also served on the Strategic Leadership Team, Innovation Committee, LEAN Committee, and Technology Steering Committee for Extraco Banks. She earned a Bachelor's Degree from Texas A&M University and attained her Master of Business Administration in Banking and Finance. She is also a Certified Financial Marketing Professional (CFMP), a Six Sigma Black Belt Professional (SSBBP) and is Lean Six Sigma Master Black Belt Certified (LSSMBB).
About Extraco Consulting - Banks of all sizes have experienced working with consultants in the past, most of which have never had actual banking experience. At Extraco Consulting, we are different...we provide guidance on four critical components: People, Products, Processes and Technology, with a foundation of what has been successful in our own financial institution and for our clients. We are a community bank and we help other community banks adapt to the changing banking environment successfully.
Thanks for listening to this week's episode of OmniTalk FI. Tune in two weeks from today for the first episode of Season 2!
For information about becoming a NXTsoft strategic partner, visit https://www.nxtsoft.com/contact or call 1-800-915-3381