On today's episode of OmniTalk FI, Mark Ryan, Senior Sales Executive for NXTsoft's OmniConnect division answers some of the questions he's frequently asked throughout the sales process:
What do the NXTsoft connectors do? Can they only connect LOS and Core Systems?

What are the benefits of a connector over manual entry?

How long is the implementation process and what can I expect?

What is Escrow and why do I need it?

Are your connectors secure?

And many more!
The OmniConnect Platform is the premier open banking marketplace for all your diverse connector and integration needs. OmniConnect takes on your challenge of automating the continual data transfer from many disparate systems, relieving the burden of rekeying information and streamlining your workflow. We connect everything from digital banking, to item processing, payments, and financial systems. OmniConnect is your integration partner for life; even if you change vendors we'll always connect your data. NXTsoft is a provider of Cybersecurity, Data, and API software solutions.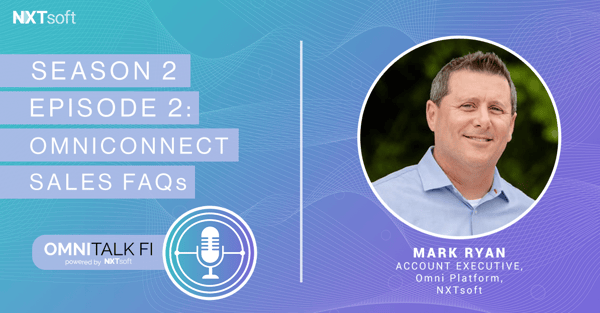 Mark Ryan, Senior Sales Executive - Mark Ryan is a veteran in the banking, mortgage lending and fintech industries with previous experience as a Loan Office at Bank of America and Account Manager at Finastra. Mark brings his 28+ years of experience to his current position as a Senior Sales Executive with NXTsoft, helping companies connect, secure, migrate and analyze data to mitigate risk and create more effective processes. Mark has a passion for sports, fitness, family and Harley Davidsons.
Be on the lookout for a new episode of OmniTalk on the 1st and 3rd Monday of each month! On the next episode, Walter Hoffmann, Corporate SVP for NXTsoft will be talking about the benefits of NXTsoft's new Cloud solution and how it will propel us and our clients into the future of fintech.
For information about how you can get a complete integration solution for your institution or for more information about how you can become a NXTsoft strategic partner, visit https://www.nxtsoft.com/contact or call 1-800-915-3381