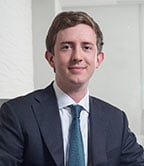 BIRMINGHAM, Alabama, March 1, 2019 –NXTsoft (www.nxtsoft.com) a company focused on delivering risk management solutions that currently focuses in the areas of cybersecurity, compliance and risk analytics, announced today that Peter Inge has joined its team as a senior financial analyst.
Inge will work with the NXTsoft management team as they explore and execute acquisition opportunities to augment their current solution set.
"NXTsoft is focused on both organic growth and growth through acquisitions and Peter will be a vital part of helping us to execute our strategy effectively," said David Brasfield, CEO of NXTsoft.
Inge joins NXTsoft from Vulcan Value Partners where he was an associate analyst on the investment team. He was responsible for analyzing companies across all industries for potential investment, including qualitative assessment, detailed financial analysis/modeling, primary research and discussions with corporate management. Prior to this Inge worked as an equity research analyst for Barclays Investment Bank in New York where he focused on covering companies in the oil/gas exploration space. Inge has successfully completed all three levels of the Chartered Financial Analyst (CFA) program.
Inge is a summa cum laude graduate of The University of Alabama where he majored in finance. He was the inaugural president of the UA Investment Banking Academy, founded in 2013, which has facilitated 100% placement of members into summer internships at prestigious financial institutions. Inge maintains an active role as advisor and student mentor. He also served as vice-chair of The Blackburn Institute, a leadership development and civic engagement organization focused on improving the state of Alabama. He remains engaged as a Blackburn Institute Fellow.
About NXTsoft

NXTsoft builds and grows companies using management's core strengths in sales and marketing, software development, business scaling, and capital access. The company's current is concentrated in risk management, which includes cybersecurity, compliance and risk analytic delivered by companies that include FIMAC, ThreatAdvice and Springhouse Compliance. For more information visit
www.nxtsoft.com
, email
info@nxsoft.com
or call 1-800-915-3381.