Welcome to the first episode of Season 2! We have a very special guest, Rich Longo. Rich is NXTsoft's Omni Division President and Chief Strategy Officer. In this episode we discuss all of the challenges and unexpected opportunities 2020 brought and what NXTsoft has in store for 2021 and beyond. He also gives some tips on what financial institutions should be expecting for the future and how NXTsoft is rising to meet those needs. Check it out using the player below!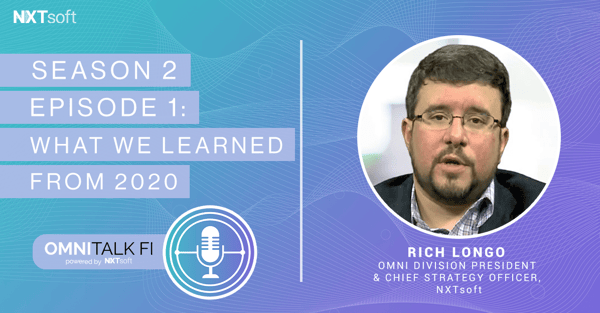 Rich Longo,NXTsoft's Omni Product Division President & Chief Strategy Officer - Rich Longo is NXTsoft's Omni Product Division President & Chief Strategy Officer. Prior to joining NXTsoft, Rich was the Managing Partner and Founder of Transform FinTech, a FinTech Advisory firm that provided strategic advice for companies like Robinhood, Goldman Sachs, RBC Innovations and Finastra. Prior to that role, Rich held senior leadership positions over the past 20 years at global companies Infosys, Temenos, VSoft, and FIS. He was instrumental in transforming those financial technology businesses by converting their business models and creating new offerings.
Rich is known as a thought leader in the industry through both published articles and television interviews with FinTech Finance and Bloomberg. Rich also serves as the Chair of Financial Technology Advisory Board at the University of Central Florida, which recently was first in the nation to offer a Masters in FinTech degree program.
Thanks for listening to this week's episode of OmniTalk FI. Tune in two weeks from today for a brand new episode!
For information about how you can get a complete integration solution for your institution or for more information about how you can become a NXTsoft strategic partner, visit https://www.nxtsoft.com/contact or call 1-800-915-3381
Podcast Transcript:
Amy Rice: I just wanted to take the opportunity to chat with you about what happened in 2020 and then also what we should be looking forward to in 2021. My first question is, what surprised you the most about 2020 regarding FinTech?
Rich Longo: Well, the acceleration of the whole digital strategy. I think everyone can probably... All your viewers probably could mutually agree, they wish 2020 didn't happen, right? So COVID, the massive disruption it had on the markets, and business, and personal lives, and unfortunately on people's health had a global impact and there wasn't anyone in the world that really wasn't affected from this and that included industries. So every industry was affected in some way or manner. Most importantly, I would say in financial services, the business we're in. And if you think about it, you had an older generation that just felt they couldn't adopt digital banking practices, they liked going into the branches and talking with the teller and sitting down at the platform, at a desk and opening products or changing things, or just grabbing a cup of coffee, and then suddenly overnight, that completely disappeared.
And even now with staged openings and in some states that are pretty open, you still have to make appointments. It might take days to get into the branch to talk to someone and so now you see a generation that never adopted mobile banking, digital banking, forced to bank that way. And so digital banking was never built to meet all those demands. If you think about it, there are parts in the process of opening an account that required human beings at a branch, or if you're disputing a debit card transaction where you had to go into branch and sign an affidavit or go somewhere, well, you couldn't do that anymore. And so that led to profound changes in the way people bank, and banks and credit unions were simply not prepared for it.
Amy Rice: And obviously 2020 was kind of a year that we didn't expect, but NXTsoft actually adapted and excelled during this year. So could you talk about how NXTsoft's Omni Division did this past year and how that went?
Rich Longo: Yeah, absolutely. So most of our customers especially from a connectivity business side, most of our customers are in-house. And so they had their own data centers or hardware at the branches or at separate locations. And now suddenly they couldn't go into those locations and they couldn't service those sorts of things, but they knew that they had to have more connectivity. Meaning they had to have a digital banking account opening experience that took all these disparate systems that they weren't worried about because normally maybe they didn't open it in a digital environment, maybe it was in a branch environment, but needed the forms to connect in. So if they're in the application process, is it going to your compliance system to validate the names? Is it going to the ACH, if you're generating an initial deposit somewhere else? Is it grabbing to your form system to generate the forms that you need to open the account?
So there are a lot of pieces in that process, a lot of disparate systems, that our clients came to us and said, "We need it." Well, the second piece they had a challenge with is implementing it because a lot of people weren't going into their data centers. And so our on-premise solutions suddenly changed to cloud solutions where the IT staff doesn't have to be involved in the connectivity side. We just can work with the business side of retail business, commercial business, and understand what fields that we need to map, what are important to the institution and quickly implement it. So we moved to cloud from on-premise and we significantly reduced our implementation's life cycle. So we are able to quickly get out the solutions to our customers so they can meet their customer needs. And that was pretty profound. And so we've just seen a skyrocket of two things: cloud deployment, and then not one connector solutions, but multi connector solutions that provide a life cycle digital solution.
Amy Rice: You mentioned a little bit about our cloud technology and where that's headed. Could you talk a little bit more about where the Omni Division and how that pertains to FinTech is headed in 2021?
Rich Longo: Absolutely. It's centered around data, right? Data's key, insight's key. And that's been over-talked about a lot, right? But you could use data to understand, okay, who can you sell more products to? Who are customers that you're going to potentially lose? One of the things that you're not addressing with data is understanding the deeper insights. So for example, if someone's online, what in your process or experience is leading to an abandonment where they're not completing the process? What is leading to a change in behavior for that customer? For example, why are they refinancing so quickly, right? And that's not necessarily data you can just get in your bank and your systems. It might be outside data. And there are plenty of other systems out there like credit reporting systems that can give you insights, for example, of where they're applying and give you that information and insight and just generate maybe a CRM case so your commercial or retail lender can reach out to them to make sure you're not losing that opportunity. That's just one example.
The other example is a lot of our financial institutions are struggling in terms of they're losing staff, which is normal attrition, but it's not easy to hire because once you hire, you have to train and your training is based on human to human interaction, right? So now they're looking more and more at automation. And so if you think about automation, things like - and some of your customers might know this, but might not, but certainly research it - it's called Robotic Process Automation, where you can take tools within the life cycle of what humans interacted and did and use machines to do it. The challenge that you have is you have to centralize your data in what they call a data lake. And really NXTsoft is focused on bringing all those data pieces together.
So if you think about it today, we have the piping. If you think about sewer piping or whatever, water piping, everything is flowing from different sources into one lake. And then that way solutions like RPA solutions like Pega, UiPath, tons of companies out there that do a lot of work with financial institutions, we could easily enable those tools because we'll have the data centralized, we'll have the data curated and now the institution could automate. And it's not only about taking human capital out of the equation, but it's also more importantly taking the friction out of it. So your customers don't have to wait three days for a loan decision, maybe for a mortgage. They can get that literally a committed loan decision in possibly a day with the connectivity, all the resources, not a human having to touch the file every single time and the RPA solution, the Robotic Process Automation pushing the file along the process without any human intervention.
Amy Rice: You are President of our Omni Division, so you obviously have your finger in a lot of different things and you kind of have some backstage knowledge of what we're working on. Could you give us a sneak peek of what Omni has in store for this coming year and also beyond that?
Rich Longo: Absolutely. So one of the things we're absolutely excited about is the NXTsoft Marketplace. And I know you've heard Marketplace and other places. So for example, FIS has FIS Code Connect, Fiserv has the DNAappstore, but our Marketplace, principally what our marketplace is, is it's agnostic. Meaning if you leave a core vendor to go to another core vendor, whatever you built in those applications and connectivity and solutions will disappear because you're leaving that company to go to another company. We don't care what applications you use and what we're going to do, and what we have been doing, is taking all of our existing connectivity and migrating it into our Marketplace. And this year alone, we've added over 25 partners. Next year, we're aiming to have over 80 new partners. And these will be a variation of all types of FinTech solutions that will provide real and true solutions end-to-end for our small community banks and credit unions. Affordable solutions that provide easy connectivity that they can consume and buy very easily.
Rich Longo: And when I mean easily is they can go online and purchase it with a credit card or an ACH and not have human interaction. Now, of course, we're always here for that human interaction, but we want to make it easy and simple. We even want to take that sales process. Some people don't like dealing with salespeople. Well, that's fine. In our Marketplace we're giving you the information, both the product information, the technical information so all the parties have the information. We'll have video demos in there for all of the third parties in our Marketplace, and a timeline of what to expect in terms of when to have it live, what impact it'll have on your organization. So we think this is truly transformational in terms of what we're doing in the market. So we're super excited about Marketplace and as Marketplace evolves, it's just not a center of connectivity, we're providing secure connectivity.
Rich Longo: So with our sister platform ThreatAdvice, we're bringing in things from their side of the house, which is virtual CISOs because a lot of institutions can't afford a Chief Information Security Officer, smaller institutions. And so we're going to leverage secure data and compliant data all in our package. And more importantly, I think that's more important than ever. I mean, even you saw with SolarWinds in the news that even the US government's having a challenge in monitoring it. So institutions are going to be expected to do more. In fact, I just read... Literally I think it was two days ago, that the Fed for banks will be implementing a 36 hour timeline that they have from when they suspect a cybersecurity breach to when they have to report it to the federal regulators. So there's even more pressure on the institutions. And so we want to provide in that Marketplace, a variety of solutions that are relevant to our clients.
Amy Rice: I know at the beginning of 2020, nobody expected this year to go like it did, but based on your knowledge now, what should financial institutions be thinking about as we head into 2021?
Rich Longo: So I think I talked a lot about the digital strategy, right? And I think they've already kind of thought about what they're going to do and not do. So they're focusing on having a better digital platform or better digital experience with a plethora of more functionality that they would find just going into a branch, having it in a digital branch. And then the second piece is they're thinking about mergers, right? They're thinking about consolidating and surviving what potentially could be a downturn in the market because we're still experiencing COVID, it's going to take a while for those vaccines to get out. It is having an impact, especially in the Northeast with all those closures, depending on what happens with the stimulus program, you don't know, but financial institutions, they're not getting serviced some of these loans. So it's having a bottom line impact.
Acquisitions and mergers are going to be a key piece we think going forward. So there's 11,000 financial institutions, both credit unions and banks in the United States today. I've seen reports down to 25% less in those institutions in the next three years, so that's a lot of institutions. So one of the things we help you every day of the week is converting that data. So if you have a strategy and you're a financial institution thinking about that and merging let's say three, four, or five institutions, of course what you're thinking about is the disruption. And maybe I don't want to do as many. So you need a partner to help minimize that disruption. And we feel here at NXTsoft we can certainly help with that. We can merge that data so none of the data's lost, the data's valuable, right?
You want to bring off over all the loan history, you want to bring over all the images, all that information seamlessly, you want to integrate it so as you're supporting those new clients and the new combined institution, that you're easily able to do that and you're able not to lose so many clients through that disruption. And that's what we're here for. And those are solutions we offer. We offer them from multi-billion dollar banks to $50 million asset institutions. So all sizes and we're here to help. And certainly that's the two things that I think in the future that you'll see financial institutions focusing and thinking about if they're not thinking about it already.
Amy Rice: All right. So just to wrap it up, I have one last question for you and it's not about 2020 or 2021, but it's actually, what's your favorite place that you've ever traveled?
Rich Longo: New Zealand. By far New Zealand. Whether it's the Northern Island, the Southern Island, a close second would be Hawaii by the way. So I do love the Pacific islands, but New Zealand is just a pure space. I mean, it's really truly, you don't have the pollution, you don't have as much building. I mean, you could go out there it's... And you have warm climates, you have colder climates, you have various ecosystems within New Zealand. The Northern Island is so much different than the Southern Island, but you really truly can get away, like no cell service, which for me is an awesome thing. #